Very personal interview with Jana, the blonde escort doll of Amsterdam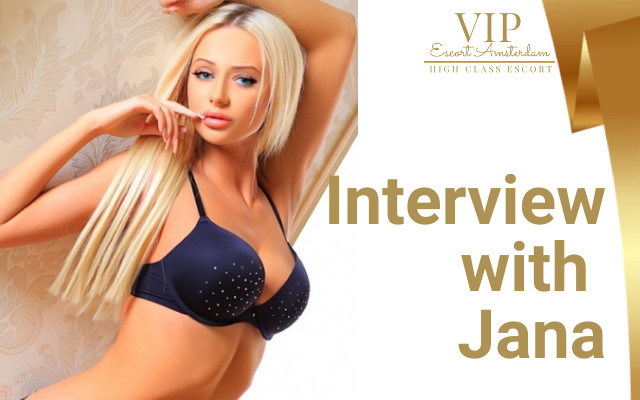 Have you ever wondered how does it feel like having a sexy, elegant and mysterious lady by your side? Lately, we can hear about escorts and escort services every day. This "movement" has been gaining popularity fort the past years among people who are brave enough to try new experiences.Today we will talk about how it's like to be a high-class escort, about this job's benefits and threats, about how escorts are often mistaken for prostitutes and much more. One of the best companions in the field has accepted our interview. Her name is Jana and I must say she is very gorgeous and Barbie looks alike.
1. Hi, Jana. Thank you for your interest. How are you today? Can you tell us some things about you? Hobbies or how are you spending your free time?
Hi, I'm so glad I am here with you and I am really happy that you chose me to answer all your questions. First of all, I have just graduated from college with a Bilingual Education Degree and I keep question myself if I should go for Master or not. I love doing sports and I hit the gym 3 times a week. I also love nature so every time I have the opportunity to go out, I am enjoying every second. I like playing tennis, football (not professional, of course, only with friends), swimming, ice-skating in the winter and going to ski.
2. Let's talk about your job. How did you manage to come in this industry?
You may laugh but my first encounter with this field was a couple of years ago when me and a friend (a girl too) decided to have a little more fun in the city of real freedom.> We were browsing the Internet for an Escort Agency and we asked for a hot blonde girl, opened up to Threesome. And then we had a lot of fun. That night really helped me in deciding to join this industry. I was really fascinated by the way she was doing her job, she was so dedicated. This experience fed my desire to bring happiness in people by using my body and mind.
3. How long have you been working as an escort in Amsterdam?
To be honest, right after I had the experience I was talking earlier, I went to a lot of castings for escorts. Step by step, working hard and being fully dedicated to my job, I have become one of the most appreciated companions in the field. And to answer your question, I have been working in this industry since I was 21 years old.
4. Are you happy with this job considering your university degree? Do you want to continue this path?
Yes, I am very happy with the path I have chosen. Having so many different types of people to deal with, a variety of fantasies and personalities make this job fitting my wishes. I love exploring people's mind and bringing out the best of them. But while my friends were struggling to cope with their financial insecurities and bank loans, I was having the best time of my life while having a lot of money. To be honest with you, I will continue doing my job 'till my body collapse. After that, I will probably have my own Escort Agency.
5. How much money do you make a week?
Enough to have a "rich style" life. I can't say a fixed amount of money, it varies. Some weeks I earn more than the other before but some weeks I wear less. It depends. But I will never complain. Money is enough.
6. How do you spend your money?
Mostly on clothes, high-heels, jewelries and perfumes. Sometimes I like to go to the cinema or theatre. Sometimes I feel like I need a vacation and travel to the other side of the world. I must tell you that I have a favorite shop where I can buy the most naughty objects and costumes. I spend a lot of money there. I love making my clients happy.
7. Do you like any brands?
Of course I do. My favorite ones are Louis Vuitton, Gucci, Chanel and Prada. For my sport clothes I always choose Nike.
8. How do you look so good?
*laughs* Thank you for your compliment. First of all, I have a healthy lifestyle and, as I mentioned before, I do a lot of sports. I also love spending time at my favorite beauty complex: spa, fitness, swimming pool, beauty salon. Everything all in one. This is my secret.
9. Did you come from a strict background? Does your family and friend know what you have been doing?
My parents are not too strict and that really helped me in my present job. They put a lot of emphasis on education and they are open-mind. Having my parent's support is everything I could ask for. They are the best parents someone could ever have. A couple of close friends know what I am doing with my life. Some of them support me; some of them might indirectly tell me to find a real job. But I don't care, as long as I am happy, nothing else matters.
10. Do you feel safe doing this job?
Yes, even though sometimes I have some creepy clients, everything is good with us. I have a schedule where somebody (a friend of mine or the booking agency) always knows about me. I call right before I enter my client's room and right before I left. This is one way I am always feeling safe.
11. So nothing to worry about in this industry?
There are things to worry about at any workplace, right? It's up to you to make that place a safer place. But I agree with you that there are little things to worry about in this field. The only thing you need to worry is if the client is having a good time or not.
12. All in all, are you happy with your job?
More than happy. I am able to buy myself whatever I wish: from the most expensive phones, clothes, watches and perfumes to the most desirable destination for a vacation and the most luxury apartment I will ever own in my entire life. So yes, my life is successful and I am enjoying a fortunate lifestyle.